Greetings from the Better Ledger Family Contact Us Now!
January 3, 2023
Welcome to Our New Home
We moved to our new location at 1031 H Street, two blocks south of California Avenue, in Summer 2022.
The old office was sold, and we had to find a new place to set up shop. We are lucky that we found a location that is still in the heart of Bakersfield, and that features the old-fashioned charm of a hundred-year-old home, turned into a business office.
This is the view of our office, if you take California Avenue and turn south onto H Street. Our office is on the right-hand side, just past the corner of Blanche and H Street. This is the easiest and safest way to approach the office.
There is on-street parking on H Street, as well as three parking spots behind the office, via the alley.
The alley to access our parking is just south of our office. You can see it in the picture on the bottom right. The gated parking area behind the building also gives access to a ramp for walker or wheelchair usage, and access to the office by the back door.
Visit www.betterledger.com
to request an appointment, get access to your secure client portal, and personalized directions to our office, located on the CONTACT tab
Better Ledger, Inc., 1031 H Street, Bakersfield, CA 93304, 661-871-1625, call or text
Appointments Available In-Person, Online, and by Telephone
We continue to offer in person appointments at our new, 1031 H Street location. To accommodate all of our clients, especially those that are at risk and are staying home, or who are experiencing illness, or caring for someone who is ill, we can arrange a tax appointment by telephone, or by zoom.
To set up an appointment, please call or text the office at 661-871-1625.
For a successful zoom or telephone appointment, James and Ana will need to have all tax documents in hand before the time of the appointment. The best way to handle this is by using our secure client portal. You can also mail or drop off your tax documents in person. As always, we continue to serve clients that prefer to drop off or mail in their tax documents.
Coronavirus Protocols in Effect
Due to the ongoing coronavirus, we feel it is necessary to continue having in person appointments spaced apart so that we have time to disinfect between clients at our desks, and to maintain social distancing in the waiting room. There is currently no mandate to wear a mask indoors. If you have a health issue and you would like your preparer or office staff to wear a mask, please let us know so we can note that for your appointment.
If you are coming to the office, please make sure that you are feeling well before you come in. If you are sick or caring for someone that is sick, please contact us to arrange for an online or telephone meeting, or to reschedule your appointment.
Necessary Documents to Prepare your 2022 Tax Return
Bring your Driver's License or state issued ID to your tax appointment. California and most other states request driver's license information to be included on the return.
If you are claiming the Child Tax Credit or the Other Dependent Credit, you need documentation to prove the child lives with and is supported by you. Please bring a document from the school, doctor, childcare provider, social services statement, or other to demonstrate that the dependent lives at the same address as you.
If you are claiming the American Opportunity Tax Credit, you need to prove that the tuition, fees, and other required school expenses were paid by you. The 1098T issued by the school has always been required. Please also bring receipts and school transcripts.
If you had health insurance through Covered California you will receive two forms: 1095A and 3895, which is required in order to complete your tax return. It is mailed to you in early January. If you didn't receive it, please log in to your account online to access it, or call and request another set of forms be sent to you. All other health insurance providers will mail you a form 1095B.
Bring Evidence of Health Insurance in 2022 to Avoid State Penalty
The federal penalty has been reduced to zero for not having insurance, however the state of California has instituted a penalty for California taxpayers that do not have health insurance. The California penalty is $800 per adult ($400 per child) or 2.5% of the household income, whichever is more.
"Tax Credit Here! Who Qualifies for a Tax Credit?"
Did you make a purchase that qualified you for a tax credit?
New Electric Vehicles purchased in 2022
If you bought a new, qualified plug-in electric vehicle in 2022, you may be eligible for a clean vehicle tax credit. The maximum credit is $7,500, subject to phaseout based on the battery capacity and number of electric vehicles sold by that manufacturer. Please make sure to bring your purchase contract to your tax appointment. New rules apply for electric and hydrogen fuel cell vehicles purchased in 2023.
Energy Efficient Home Improvements
This credit is available for purchases made to improve the energy efficiency of your home in 2022. The credit is equal to 10% of the cost of the eligible items, subject to many rules. The items that qualify are energy-efficient windows, skylights, and exterior doors, insulation, and certain roofing products. There is a lifetime credit limit of $500, so if you have taken advantage of this credit before, sorry, you can't take it again. Please make sure to bring your purchase contracts and receipts to show the improvements qualify for the credit. New rules apply for energy efficient home improvements that you make in 2023 that increase the credit available. Please see our website for links to the details.
Solar (and Small Wind, Geothermal, Biomass and Fuel Cell) Energy Credits
The Inflation Reduction Act, passed in August 2022, made many changes to energy credits starting in 2023, but the credit for Solar and other Clean Energy Credits was passed retroactive to January 1, 2022. This means that all solar energy purchases made for your personal residence in 2022 are eligible for the 30% tax credit. The credit continues to be nonrefundable, but it does carry forward until it is used up. The 30% credit is expected to stay in place through the end of 2032. Please make sure to bring your purchase contract to your tax appointment.
Mid-Year Tax Check Up
If you have questions about your tax situation in the middle of the year, give us a call! We provide a Mid-Year Tax Check-Up for your W2 and/or Retirement income, using your most current paystubs and current tax situation, so you can have a better idea of what to expect at tax time. If a course correction is needed in the form of changing withholding on your income, this service is for you.
Visit www.betterledger.com to request an appointment, get access to your secure client portal, directions to our office, and information to help you plan for your personal tax situation.
_____________________________________________________________________________________
We look forward to seeing you at our new location, two blocks south of California Avenue.
Better Ledger, Inc. 1031 H Street, Bakersfield, CA 93304
www.betterledger.com call or text 661-871-1625 fax 661-840-5735
ana@betterledger.com james@betterledger.com admin@betterledger.com
_____________________________________________________________________________________
Meet the Better Ledger Family
The friendly voice you hear when you call is April Simpkins. April has lived in and around Kern County all her life. She and her husband, Joshua, are the proud parents of their adopted daughter, Lily. This is the second year she will be in charge of the front desk. In addition to setting appointments and organizing client portals she is also a Notary Public. Please note that like all Notaries Public, she "is not an attorney and therefore cannot give legal advice about immigration or any other legal matter." She is able to answer any questions you have regarding the Notary process. april@betterledger.onmicrosoft.com
Terra Frazier has been working with James in our Bookkeeping and Payroll Department for going on three years. We congratulate her, as she recently completed her California Tax Education Council designation and is now also a registered tax preparer. She loves spending time with her precious granddaughters and traveling up river in the Kern River Valley. terra@betterledger.onmicrosoft.com
Ana and James use both sets of emails:
@betterledger.com and
@betterledger.onmicrosoft.com (best for large files)
James and Ana Duke recently celebrated 23 years of marriage and continue co-owning and running Better Ledger, Inc. We truly enjoy serving our clients and look forward to working with you. James continues to focus on Bookkeeping and Payroll for our commercial clients, as well as taking care of his tax clients. Ana keeps taking more education to best serve your tax needs. James' mom, Barbara Willingham, is enjoying her retirement with her husband John, and takes off to Morro Bay whenever she gets the chance. Luckily, she always makes herself available if we need to pick her brain every once in a while.
We are proud to announce that our daughter Remi Duke will be working in the office, filling in for receptionist duties. She graduated from high school last spring and is looking forward to the office experience (she says, haha). She dreams of being a farmer, and also has a passion for drawing, animation and storytelling.
If you took an early distribution from your retirement in 2020 due to the pandemic, you avoided the early distribution penalty and you were allowed to report the retirement distribution over three years. You also had the option to pay it back. If this applies to you, and you paid back your distribution, please let us know!
Child and Dependent Care Credit also back to normal: In order to claim this credit you must provide the childcare provider's statement that includes their name, address, phone number, tax ID number, the child's name, and how much was paid for care (per child).
Do you need to file an extension? An extension grants you more time to accurately prepare your tax return, but it does not extend the time you have to pay taxes you owe, if any. If you are considering filing an extension, please give us a call so we can discuss and determine if any payment is recommended with extension.
We have all heard that many of the money transferring apps we use to send money digitally will be reporting those transactions to you and to IRS on form 1099-K. IRS just announced that 2022 would be a transition year, and may not be required. If you receive a 1099-K, bring it to your tax appointment!
Child Tax Credit is back to normal: $2,000 per qualifying child who was age 16 or under as of 12/31/22, subject to income limitations. The credit for other qualifying dependents of $500 remains in place. There have been no solid moves by congress to increase the child tax credit again.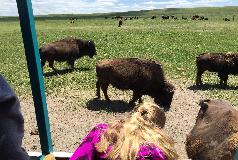 Cheyenne, Wyoming (June 2017)