Greetings from the Better Ledger Family Contact Us Now!
Happy New Year 2019!
We hope that you had a fantastic holiday season with your friends and family. We look forward to working with you soon, and making the best of the new tax law, known as the Tax Cuts and Jobs Act (TCJA), which passed into law on December 20, 2017. Please read lots more about the TCJA and how it may impact you in this newsletter:
Since before Christmas Eve, we have been wondering and worrying: What is going to happen during Tax Season this year? The federal government was shut down in January 2018 for three days (causing us some heartburn last tax season), and then threatened to again in February 2018. (A resolution was passed overnight in February 2018, and an actual government shut down was avoided.)
The most recent government "shut down" on December 22, 2018, was due to the House of Representatives and the Senate failing to pass a budget, or a continuing resolution to temporarily fund the government. As of Monday, Jan 7th, the shut down has continued for 16 days so far. We have been worried that IRS would not issue refunds to taxpayers until the government shut down was over. On Monday, Jan 7th, IRS issued a statement confirming that it will process tax returns and provide refunds to taxpayers as scheduled. IRS Commissioner Chuck Rettig said, "We are committed to ensuring that taxpayers receive their refunds notwithstanding the government shutdown."
January 28th is the first day that IRS will begin accepting tax returns. Tax returns that are electronically filed (Better Ledger's preferred method of filing) are expected to be processed on a normal time frame, and if you are due a refund, it should be direct deposited in 21 to 28 days. Tax returns that are filed by mail, or refunds which will be mailed in the form of a check, will most likely take substantially longer to process.
Visit www.betterledger.com to request an appointment, get access to your secure client portal, directions to our office, and information to help you plan for your personal tax situation.
Better Ledger, Inc., 1400 Easton Drive, Suite 135, Bakersfield, CA 93309
www.betterledger.com 661-871-1625 fax 661-840-5735
ana@betterledger.com james@betterledger.com admin@betterledger.com
Tax Cuts and Jobs Act: Benefits and Drawbacks
The Tax Cuts and Jobs Act (TCJA) was passed in an effort to simplify the process of actually filing your taxes, and in most cases, decrease the amount of taxes that you pay to the federal government. It remains to be seen if the changes will make filing any easier, although most taxpayers will have a decrease in their federal tax overall. These changes went into effect 01/01/2018, and are being applied to your tax returns this tax season.
New Tax Brackets: The tax brackets have changed. Each bracket after the 10% bracket is a lower percentage, and the brackets got wider, so more taxable income fits into the lower tax brackets. As a comparison, a married couple with taxable income of $160,000 would have been in the 28% tax bracket last year. In 2018 that income lands the married couple in the 22% tax bracket. Please see https://www.betterledger.com/tax-rates for detailed tax bracket information.
| | | |
| --- | --- | --- |
| Standard Deduction Comparison | 2017 | 2018 |
| SINGLE | $6,350 | $12,000 |
| HEAD OF HOUSEHOLD | $9,350 | $18,000 |
| MARRIED FILING JOINTLY | $12,700 | $24,000 |
New Standard Deduction and No More Personal Exemption: The standard deduction almost doubled in 2018, and the Personal Exemption (a deduction of $4,050 per person in on the tax return in 2017) completely disappeared.
New Federal Withholding Tables: In mid-February 2018, IRS issued new federal withholding tax tables in response to the TCJA. Since IRS expected most people to have less calculated tax due, IRS reduced the amount of federal withholding on each check. This means that even though you may have less calculated tax, your withholdings also likely went down. This may result in a very different refund situation from last year.
Changes to Alimony Reported as Income: Traditionally, when spouses divorce and one pays alimony to the other, the payer deducts the alimony from taxable income and the recipient includes the alimony in their taxable income. For divorce decrees that were entered into or amended after 12/31/18, alimony payments are no longer deducted by the payer, or included in the recipient's income.
Moving Expense Deduction is eliminated 2018 through 2025, unless your employer is the military. Reimbursement from your employer for moving expenses will be included in your W2, and yes, the moving expense reimbursement will be taxable income.
Increased Child Tax Credit: The Child Tax Credit has been increased to $2000 per child, and the income taxpayers are allowed to earn before the credit has been phased out are greatly increased. In 2017, a married filing jointly couple with one child would lose the Child Tax Credit once earnings reached $129,001. In 2018 through 2025, for the same couple the credit is completely phased out when earnings reach $400,000. (Usually, the credit is applied towards calculated tax due. The refundable portion of the Child Tax Credit is $1400 per child.)
New Dependent (non-child) Tax Credit: For 2018 through 2025, there is a $500 credit for any dependents claimed on the return, other than qualifying children. This credit is not refundable, meaning it can only be applied to any calculated tax due.
Tax Cuts and Jobs Act: Changes to Itemized Deductions
State and Local Taxes (SALT) are limited to a maximum of $10,000. This includes state income tax or state sales tax, real estate taxes and the vehicle license fee portion of DMV fees. Any amount over $10,000 is disallowed.
Mortgage Interest is limited to $750,000 of debt on your home, down from $1,000,000. If you have traditionally written off the interest on a Home Equity Line of Credit (HELOC) that is no longer deductible, unless the credit was used only to improve your home, and is within the $750,000 limitation. If you have a second home or RV that you have traditionally claimed the interest on, you can only deduct the interest if the loan fits into the $750,000 cap, and if the loan was procured specifically for the purchase of the second home or RV.
Charitable Contributions may be up to 60% of your adjusted gross income (up from 50% last year).
Casualty and Theft Losses are no longer allowed as deductions unless your loss was part of a federally declared disaster loss.
All itemized deductions subject to 2% of your adjusted gross income are no longer allowed. The biggest lost deduction here is Unreimbursed Employee Expenses. If you travel outside of your tax home for work and have living expenses (like electricians), if you drive for work and you are not reimbursed (like salesmen), if you pay out of pocket for classroom supplies (like teachers), if you pay union dues, if you have a home office, if you have continuing education that you pay out of pocket to maintain your credential . . . none of those expenses are deductible on the federal Schedule A. Other lost deductions include: tax preparation fees, investment expenses, and safe deposit box rent.
Please note: California and many other states do not conform to the new federal laws. This means that although you may not be able to exceed the standard deduction and itemize with IRS, you may still be able to take advantage of the deductions with California. Please bring all the deductions documentation you usually bring.
IRS and state taxing agencies are making a strong effort to combat fraud and refunds that taxpayers are not legally entitled to. What does that mean for you?
► Bring your Driver's License or state issued ID to your tax appointment. (If you are married, please bring both.) California and most other states request driver's license information to be included on the return.
► If you are claiming the Child Tax Credit or the new Dependent Credit, you need documentation to prove the child lives with and is supported by you. Please bring a document from the dependent's school, doctor, childcare provider, social services statement, or other to demonstrate that the dependent lives at the same address as you.
► If you are claiming the American Opportunity Tax Credit, you need to prove that the tuition, fees, and other required school expenses were paid by you. The 1098T issued by the school has always been required. Please also bring receipts, school transcripts, and any other proof you may have to substantiate the education expenses.
Tax laws have expired and will affect the 2018 filing, and the years to come.
Expired 12/31/17
— The credit for energy efficient home improvements, like dual-pane windows, new exterior doors and added insulation is no longer available.
— If you had a home foreclosure, short sale, or other cancellation of debt income resulting from your personal residence, that income is no longer excludable from your taxes, unless you can claim another exemption, like insolvency. (California has taxed cancellation of debt income resulting from your personal residence since 2014.)
— Mortgage Insurance Premiums paid on your home mortgage (box 5 on form 1098) are not deductible.
— Tuition and fees paid to an accredited college or university are no longer available as a deduction. However, tuition and fees can still be used towards the American Opportunity Tax Credit and the Lifetime Learning Credit.
Expired 12/31/18
— The medical expense threshold was reduced to 7.5% for 2017 and 2018. Effective 01/01/19, the medical expense threshold for all taxpayers will be 10% of adjusted gross income.
Solar Energy Credit Sunsets 12/31/2021
The credit for installing solar power systems has been 30% of the cost of purchase for a number of years. 2019 is the final year for the 30% credit, so if you have been thinking about installing a solar energy system at your home, 2019 is the most advantageous time to do so, tax-wise.
If you install a solar energy system in 2020, the credit is limited to 26% of the cost of purchase and installation. In 2021, the credit is limited to 22%.
By 2022, the solar energy system credit will be gone entirely.
Health Care Reporting
In 2018, the mandate to have health insurance, and the penalty for not having it still applies. This means that if you did not have insurance in 2018, and do not qualify for an exemption, you will still be hit with the Health Care penalty. As of 01/01/19, the penalty amount has been reduced to zero. So, next tax season, you will still be asked about your health insurance, but there will no longer be a penalty.
If you had health care coverage through Covered California or your state exchange, you must bring the 1095A you will receive. The form 1095A is used to determine if the state gave you too much Premium Tax Credit, and you need to pay it back, or if the state shorted you on the Premium Tax Credit, and your refund increases.
You will also receive form 1095B from your healthcare provider. This is used to prove who was covered by the health care policy, and for which months of 2018. *The 1095B may also be used as proof of residency for a qualifying child.
____________________________________________________________________
Better Ledger, Inc. 1400 Easton Drive, Suite 135, Bakersfield, CA 93309
www.betterledger.com 661-871-1625 fax 661-840-5735
ana@betterledger.com james@betterledger.com admin@betterledger.com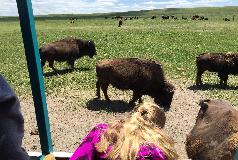 Cheyenne, Wyoming (June 2017)