Greetings from the Better Ledger Family Contact Us Now!
Wishing you Peace, Love, and Hope in 2022
2020 was a notoriously difficult year. It turns out that 2021 was also quite challenging. Here we are in 2022, crossing our fingers for the best.
Appointments: In Person, Online, and by Telephone
Due to the ongoing coronavirus, we feel it is necessary for in person appointments to be spaced apart so that we have time to disinfect between clients at our desks, and to maintain social distancing in the waiting room. To accommodate all of our clients, especially those that are at risk and are staying home, or who are experiencing illness, or caring for someone who is ill, we can also have a tax appointment by telephone, or by zoom.
To set up an in person appointment, please call or text the office at 661-871-1625.
For a successful zoom or telephone appointment, James and Ana will need to have all tax documents in hand by the time of the appointment. The best way to handle this is by using our secure client portal. You can also mail or drop off your tax documents. We also continue to serve clients that prefer to drop off or mail in their tax documents.
Visit www.betterledger.com to request an appointment, get access to your secure client portal, directions to our office, and information to help you plan for your personal tax situation.
Stay Healthy, Friends
If you are coming to the office, please make sure that you are feeling well before you come in. If you are sick or caring for someone that is sick, please contact us to arrange for an online or telephone meeting, or to reschedule your appointment.
Please wear a mask when you come to the office. The state of California has extended the indoor mask mandate through 02/15/2022, so far. If you have a health issue that does not allow you to wear a mask, please set up an online or telephone appointment.
Did you make charitable cash donations in 2021? If so, you can claim the deduction even if you don't itemize. If you donated up to $300 ($600 for a married couple) in cash to a charity you are eligible for a tax deduction.
Sorry, donations of stuff to charity are not included. Please bring your donation receipt(s).
Visit www.betterledger.com for links to access your IRS and California Franchise Tax Board accounts, look up the amount of Advanced Child Tax Credit you received, and the latest tax information.
Special Child Tax Credit for 2021
There were major changes to the Child Tax Credit, effective for 2021 only. The first major change is that children who turned 17 in 2021 are eligible for the Child Tax Credit. (Usually, the Child Tax Credit is not available for children after they have turned 16 years old.) The second major change is that the Child Tax Credit was increased from $2000 per child to $3000 per child (enhanced to $3600 per child under age 6, credit limited for high income earners). A third major change to the Child Tax Credit is that for 2021 only, the credit is fully refundable.
The federal government and IRS took an unprecedented action, and decided to advance half of the increased Child Tax Credit, split into six monthly payments July through December 2021.
That means that unless you unenrolled from receiving the payments, you had the Advance Child Tax Credit payments direct deposited in your bank account. In order to prepare your 2021 return, we will need a letter that IRS is preparing to mail out (Letter 6419), which shows how much you received in Advance Child Tax Credit payments and how many children you claimed. IRS is starting to send out those letters now.
If you don't receive the ACTC letter from IRS, or if you don't want to wait to receive it, please go to https://www.irs.gov/payments/your-online-account and sign in to your online account. If you already have an IRS account, you use the same log in. If you need to set one up, IRS has partnered with id.me to verify your identity and provide access.
Child and Dependent Care Credit Expanded in 2021
The Child and Dependent Care Credit is based on how much you spend on childcare during the year, of which a percentage is allowed as a credit, depending on your income. For 2021 only, the credit has been expanded, by allowing more annual childcare expense during the year (to $8000 from $3000), by increasing the credit percentage (starts at 50% of the expense, instead of 35%), is phased out at much higher income levels (credit ends at $438,000 of income, compared to $43,000 per usual), and is refundable (instead of just being applied towards tax due). Please include your Child Care provider statement that includes the provider's name, address, tax ID number, phone number, amount paid in 2021, and the child's name.
_____________________________________________________________________________________
Necessary Documents to Prepare your 2021 Tax Return
Bring your Driver's License or state issued ID to your tax appointment. California and most other states request driver's license information to be included on the return.
If you are claiming the Child Tax Credit or the Other Dependent Credit, you need documentation to prove the child lives with and is supported by you. Please bring a document from the school, doctor, childcare provider, social services statement, or other to demonstrate that the dependent lives at the same address as you. You also need the IRS letter regarding the actual Advanced Child Tax Credit received, or access to your IRS account online.
If you are claiming the American Opportunity Tax Credit, you need to prove that the tuition, fees, and other required school expenses were paid by you. The 1098T issued by the school has always been required. Please also bring receipts, school transcripts, and any other proof you may have to substantiate the education expenses.
If you had health insurance through Covered California you will receive a form 1095A, which is required in order to complete your tax return. It is mailed to you in early January. If you didn't receive it, please log in to your account online to access it, or call and request another 1095A be sent to you. All other health insurance providers will mail you a form 1095B. Please bring that evidence of insurance to your tax appointment.
Did you have Health Insurance in 2021?
The federal penalty has been reduced to zero for not having insurance, however the state of California has instituted a penalty for California taxpayers that do not have health insurance. The California penalty is $750 per adult ($375 per child) or 2.5% of the household income, whichever is more.
Economic Stimulus Payment a.k.a. Recovery Rebate Credit
If you didn't receive the $1400 per person stimulus payment in March 2021, and you qualified per income guidelines, you will have the chance to claim that stimulus to be included as part of your 2021 tax return (to increase your refund, or reduce what you owe).
To confirm whether IRS shows that they issued that stimulus, you can log in to your account online at https://www.irs.gov/coronavirus/economic-impact-payments.
Retirement Plans
The Secure Act, passed in late December 2019, increased the age to start taking your RMDs (required minimum distributions) from 70 ½ to 72. In 2020 no RMD was required to be taken, due to the pandemic. For 2021, the RMD requirement is back in effect. The SECURE Act also allowed people to make traditional IRA contributions past the age of 70 ½, as long as you're still working, and allowed a distribution from an IRA or 401k up to $5000 without the early withdrawal penalty if you had a baby or adopted a child.
If you took an early distribution from your retirement in 2020 due to the pandemic, you avoided the early distribution penalty and you were allowed to report the retirement distribution over three years. You also had the option to pay it back. If this applies to you, and you paid back your distribution, please let us know!
Things You Need to Know
The Medical Deduction threshold is 7.5%, made permanent in 2021.
Mortgage Insurance Premium (MIP, found in box 5 on form 1098) is deductible in 2021.
Cancellation of Debt income resulting from a foreclosure or short sale of your personal residence can be excluded from income through 2025. Unfortunately, California has not extended the same tax benefit, so any cancellation of debt income from your personal residence is taxable income on your California tax return.
The Credit for Energy Efficient Home Improvements is available in 2021. If you installed dual pane windows, additional insulation, exterior doors or certain roofing materials, bring your receipts. The credit is 10% of what you spent and has a maximum lifetime credit of $500. Check out the link on our website for details about what qualifies for the credit.
Alimony payments are not deducted by the payer for divorces finalized after 12/31/18.
Moving Expense Deduction remains eliminated 2018 through 2025, unless your employer is the military.
State and Local Taxes (SALT) are limited to a maximum of $10,000.
Mortgage Interest is limited to $750,000 of debt on your home.
Casualty and Theft Losses are not allowed as deductions unless your loss was part of a federally declared disaster loss.
All itemized deductions subject to 2% of your adjusted gross income are not allowed. That includes unreimbursed employee expenses you incurred while working from home.
Please note: California and many other states do not conform to federal laws. This means that you may be able to take advantage of itemized deductions with California. Please bring all the deductions documentation you usually bring.
Solar Energy Credit Extended through 12/31/2023
The credit for installing solar power systems has been extended. If you purchased and installed solar energy in 2021, the credit is 26% of the cost, including installation.The credit for 2022 remains at 26%. The credit for 2023 drops to 22%. By 2024, the solar energy system credit will be gone entirely.
Do you need to file an extension? An extension grants you more time to accurately prepare your tax return, but it does not extend the time you have to pay taxes you owe, if any. If you are considering filing an extension, please give us a call so we can discuss if an extension payment is recommended.
_____________________________________________________________________________________
We look forward to seeing you at our office on the corner of California Avenue and A Street.
Visit www.betterledger.com to request an appointment, get access to your secure client portal, directions to our office, and information to help you plan for your personal tax situation.
Better Ledger, Inc., 2331 California Avenue, Bakersfield, CA 93304
www.betterledger.com 661-871-1625 fax 661-840-5735
ana@betterledger.com james@betterledger.com admin@betterledger.com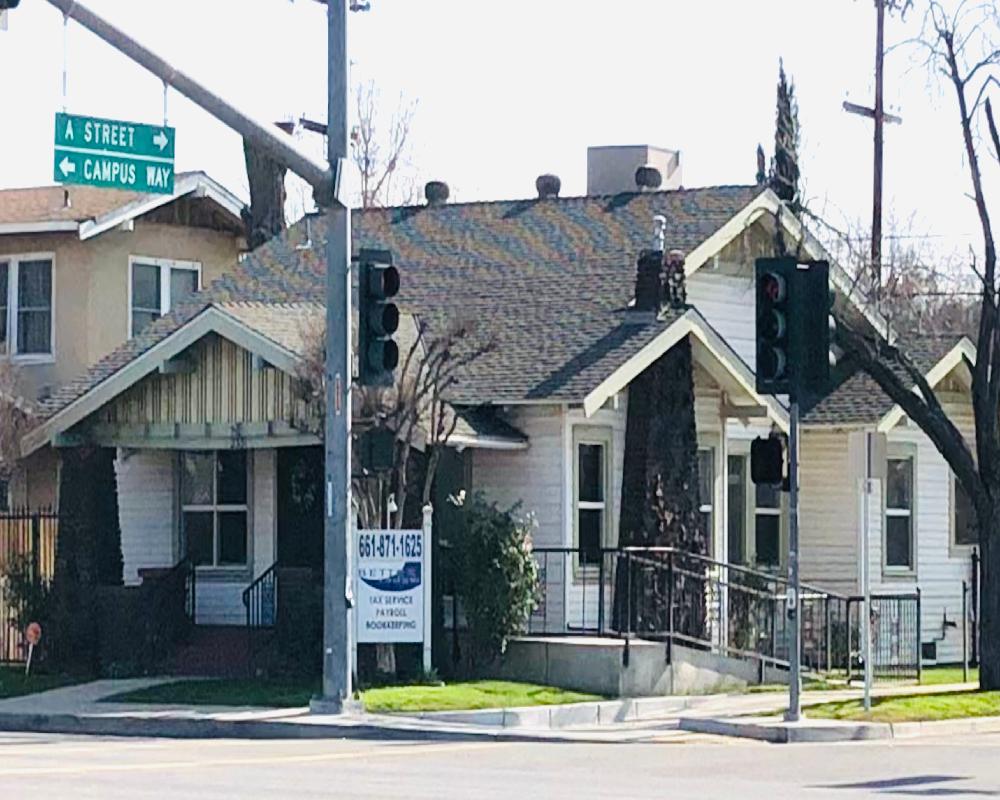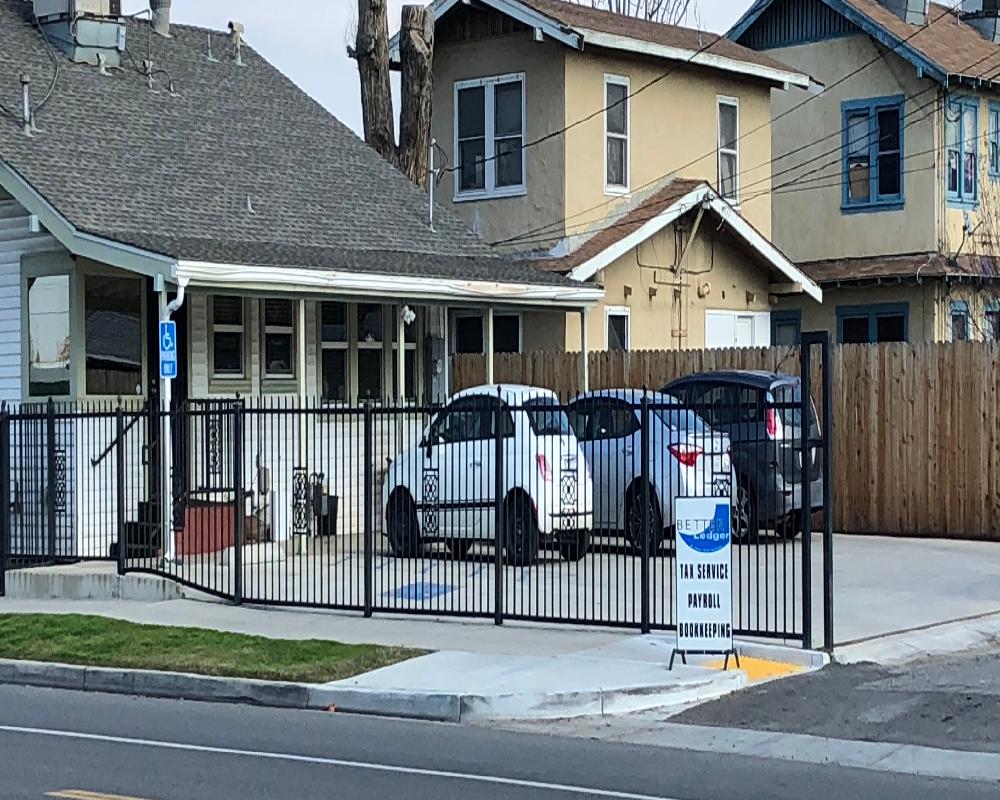 Parking at our new office is available on the street and in our private parking lot off A Street.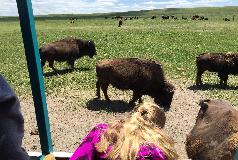 Cheyenne, Wyoming (June 2017)